ARNOVA Asia 2023 Opening Plenary
Building an Asian Nonprofit Research Community for Sustainable Civil Society
10:00-12:00 JST(UTC+9) | July 7, 2023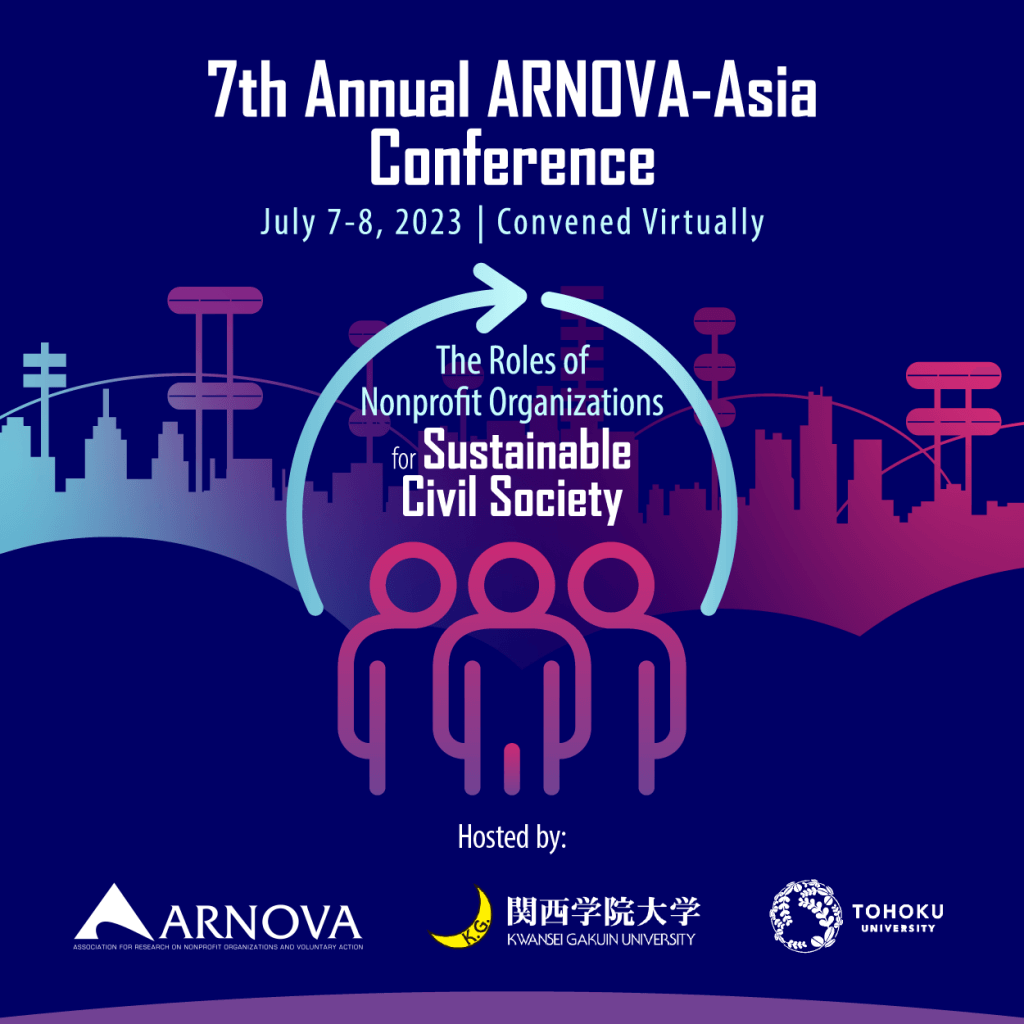 Ensuring a prosperous and stable civil society is essential in the nonprofit sector. Furthermore, the role of research associations and communities in examining the way forward is also significant. In the Opening plenary, we will review ARNOVA Asia to date and discuss the development of the research community in each country and its relationship to social action practices and trends. By learning examples of actions in each country, the future relationship between the research community and the practice promotion is explored for building a sustainable civil society.
Haven't registered for the conference?
Chao Guo is Professor of Nonprofit Management in the School of Social Policy and Practice, and Associate Faculty Director of Fox Leadership International, both at the University of Pennsylvania. He received his PhD in Public Administration from the University of Southern California, and his BA in International Relations from Renmin University of China.
Dr. Guo conducts research on the contributions of nonprofit organizations to democratic governance, collaboration within and across sectors, social entrepreneurship, and the role and effects of new media on nonprofit organizations. He has received numerous awards for his research, including the 2021 Best Book Award sponsored by the Public and Non-Profit Division of the Academy of Management and the 2022 ARNOVA Outstanding Book for The Quest for Attention: Nonprofit Advocacy in a Social Media Age (Stanford University Press, co-authored with Gregory D. Saxton). In 2019, he received the Distinguished Achievement and Service Award from ARNOVA.
He is a former Editor-in-Chief of Nonprofit & Voluntary Sector Quarterly, the premier journal in the field, a co-editor of the Brill Nonprofit Sector Research Series, and serves on the editorial boards of many leading scholarly journals. He has served on the boards of ARNOVA directors and been instrumental in creating ARNOVA-Asia, co-chairing its initial three conferences in Beijing, Hong Kong, and Taipei/Taichung, respectively (2017-2019). He has also served as founding co-director of the Institute for Philanthropy & Social Innovation at Renmin University of China.
Chul Hee Kang is Professor of Social Welfare at Yonsei University, Seoul, Korea. Recently, he served as a Dean of School of Social Welfare at Yonsei University and a S. R. Nathan Professor at the National University of Singapore. He has a B.A. in Theology & Social Welfare from Yonsei University, an M.S.W. in Social Work Administration from Ohio State University, and a Ph.D. in Social Welfare from the University of Pennsylvania. Dr. Kang's current research topics include giving & volunteering, multi-gallon blood donation, organ donation for non-relatives, fund-raising performance in crowdfunding platforms, social and economic performance of social economy organizations, social workers' burnout and turnover, social workers' silence on organizational issues, and organizational resilience of human service organizations in the COVID-19 period. Recently, he published the following papers: "Half Century of NVSQ" at Nonprofit & Voluntary Sector Quarterly; "What Convinces Donors?" and "Does Mission Concreteness Make a Difference in NPO Performance?" at Nonprofit Management & Leadership; "For the Love of Art" at Voluntas; "Thematic Trends and Changes in HSOs" at Human Service Organizations; "The People behind Scenes" at Journal of Philanthropy & Marketing; and other Korean top journals. As a professor in Social Welfare, he has held positions at the University of New Hampshire, Ewha Womans University, and Yonsei University.
Katsuji has 25 years of nonprofit/NGO senior management experience in the U.S., Japan and South Africa with a focus on civil society strengthening. Back in Tokyo since 2013, his central work has been promoting the role of evaluation and impact management in social, corporate and financial sectors. He works as President of Social Impact Management Initiative Japan (SIMI) as well as Co-CEO of Blue Marble Japan. Katsuji also serves as Vice Chair and the Training Committee Chair of the Japan Evaluation Society (JES), a member of JICA (Japan International Cooperation Agency)'s Advisory Committee on Evaluation, a board member of Japan NPO Center and Japan Civil Society Network on SDGs.
Alisa V. Moldavanova is Associate Professor and MPA program director at the University of Delaware's Joseph R. Biden, Jr. School of Public Policy and Administration. She holds a PhD in Public Administration (from University of Kansas) and a PhD in Psychology (from Institute of Psychology of the National Pedagogy Academy of Ukraine). Dr. Moldavanova's research investigates how nonprofits and other public service organizations foster sustainable development in their local communities and the role of civil society and nonprofit sector organizations in advancing democracy. She has received many awards and grants for her research and teaching, including support from the National Endowment for the Arts. She co-edited a 2018 book, The Nonprofit Sector in Eastern Europe, Russia, and Central Asia: Civil Society Advances and Challenges. She has also co-edited multiple special issues, including, most recently, a special issue on civil society, nonprofit service providers, and democratization in Public Administration and Development. Dr. Moldavanova is currently serving on the Board of Directors of ARNOVA.
Dr. Shariq Siddiqui is an Assistant Professor of Philanthropic Studies and Director of the Muslim Philanthropy Initiative at the Indiana University Lilly Family School of Philanthropy. Shariq has a Ph.D. and M.A. in Philanthropic Studies from the Lilly Family School of Philanthropy. He also holds a JD from the McKinney School of Law at Indiana University. Dr. Siddiqui is a leading scholar for Muslim philanthropy and the Muslim nonprofit sector. He co-authored a book about Islamic Education in the United States and the Evolution of Muslim Nonprofit Institutions. He also serves as the co-editor of the Journal of Muslim Philanthropy and Civil Society and as the Series Editor of the Muslim Philanthropy and Civil Society Book Series. His new co-edited book Philanthropy in the Muslim World: Majority and Minority Communities features Muslim philanthropy in 18 countries. He has served as a nonprofit practitioner for over 20 years for international, national, regional, and local nonprofit organizations and is the former Executive Director of ARNOVA.
Yu Ishida has been a Professor Department of Social Organization Development, Faculty of Human Welfare Studies, Kwansei Gakuin University since April 2023. He specializes in nonprofit economics and nonprofit and public management. He holds a B.A. and M.A. in Policy Studies from Kwansei Gakuin University and a Ph.D. in International Public Policy from Osaka University. Before assuming his current position, he was a professor at the School of Project Design at Miyagi University. Currently, he also serves as President of the Japan NPO Association (JANPORA), Editor-in-Chief of the Japan Association for Social Relations (JASR), Co-Chair of ARNOVA Asia 2023 Conference, Chief Executive Officer of the authorized Nonprofit Corporation Morino Dengonban Yururu, a board member of the Japan NPO Center, and Chairperson of the Miyagi Prefecture Public Interest Accreditation Committee.