ARNOVA Asia 2023 Closing Plenary
Towards a New Comparative Civil Society Project in Asia
19:00-20:30 JST (UTC+9) | July 8, 2023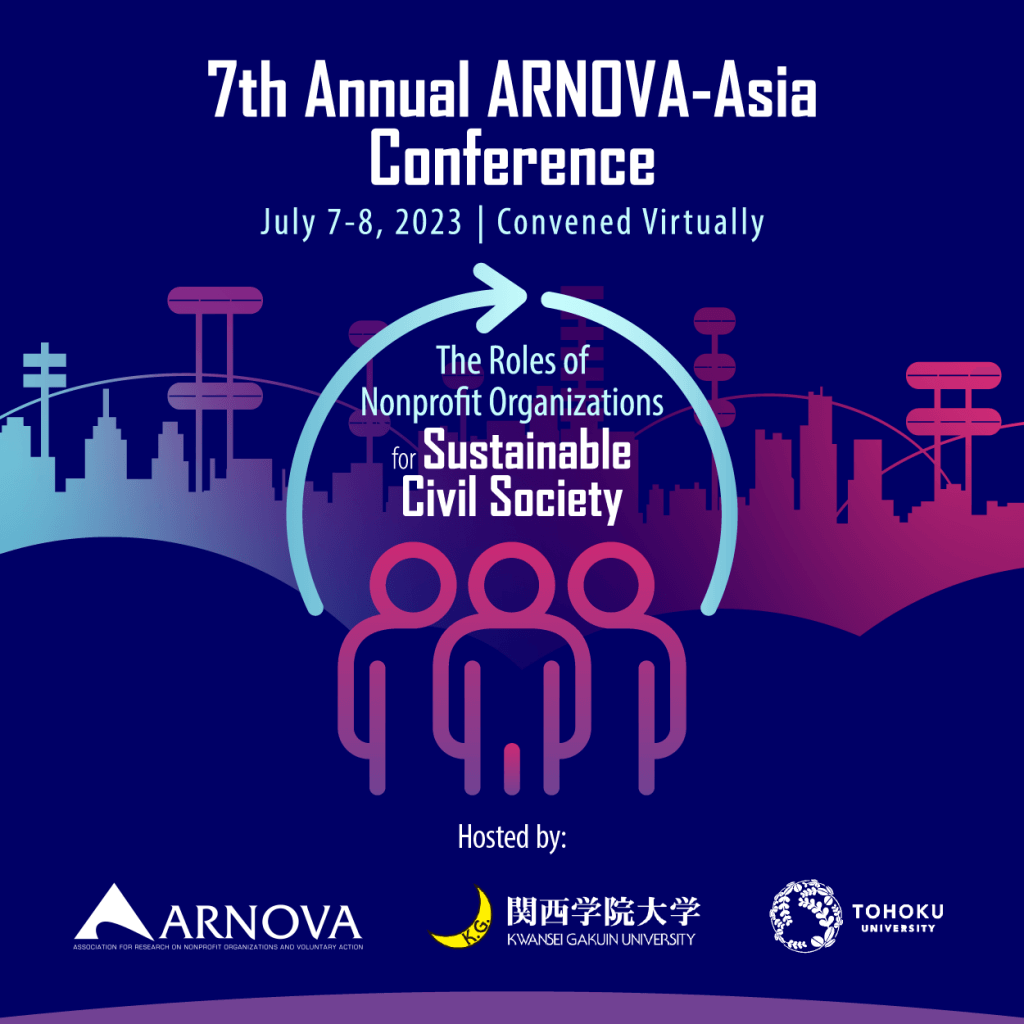 This keynote examines the relationship between civil society and democracy using V-Dem. This dataset offers a century-long longitudinal data for over a hundred countries on both liberal democracy index (LDI) and civil society index (CSI). The relationship between the two in Asia will be highlighted, considering the effects of dynamic political change in a decade or so and the effect of the Covid-19 pandemic in very recent years.
An active civil society plays a very important role in making democracy work. The relationship between civil society and liberal democracy is complicated, but from a broader point of view the relationship can be seen as positive. These facts are exactly the cases in Asia. The reasoning behind this is as follows. If liberal democracy becomes weak, the civil society would be facing the power of the authoritarian state directly and the advocacy roles of civil society might be damaged. If civil society becomes weak and cannot play a bulwark role against the states, the democratic state may shift to the authoritarian political system. Hence once civil society becomes weak, then democracy would lose momentum, and vice versa. In this sense, civil society and democracy may fall into a vicious circle. At the same time, political initiatives could be a trigger to make a virtuous circle.
A new comparative civil society project will be proposed in Asia, covering not only East, Southeast and South Asia, but also Central and West Asia. This could be a successor of famous Johns Hopkins Comparative Nonprofit Sector Project, with much compact and flexible settings.
Haven't registered for the conference?
Naoto Yamauchi is former Professor of public economics at Osaka School of International Public Policy (OSIPP), Osaka University. He taught public and civil society issues there since 1994. He received B.A. from Osaka University, M.Sc. from the London School of Economics, and Ph.D. from Osaka University. He was Visiting Fellow at Yale University in 1997, Faculty Fellow at RIETI, Research Institute of Economy, Trade and Industry, and Visiting Senior Researcher of the Economic and Social Research Institute of the Cabinet Office. He also served as board member of ISTR and a member of the editorial board of Voluntas, one of the leading journals of the field of civil society research. He is a founding member and currently President of JASR, Japan Association of Social Relations. He was President of JANPORA, Japan NPO Research Association which he and his colleagues founded. His research focuses empirical analysis of the nonprofit sector, giving and volunteering, corporate social responsibility, social capital, subjective well-being, and issues on public private partnership. He is author of numerous research reports, academic articles and books.
Helmut K. Anheier is Professor of Sociology at the Hertie School. He served as President of the Hertie School from 2009 to 2018. He is also a member of the faculty at the University of California, Los Angeles (UCLA) Luskin School of Public Affairs and visiting professor at LSE Ideas, London School of Economics and Political Science. His research centers on indicator systems, governance, culture, non-profits and philanthropy and organizational studies. He received his PhD from Yale University in 1986, was a senior researcher at the Johns Hopkins University's Institute for Policy Studies, Professor of Public Policy and Social Welfare at UCLA, and Centennial Professor at LSE. He is author of over 500 publications, many in leading journals and has received various national and international awards.
Masaaki Higashijima is Associate Professor of Comparative Politics at the Institute of Social Science, University of Tokyo. Previously, he taught and conducted research at Tohoku University, European University Institute, and the University of Michigan. He earned a Ph.D. in Political Science from Michigan State University. His research interests lie in comparative political economy, autocratic politics, regime change, and Central Asia. His first book, The Dictator's Dilemma at the Ballot Box, is published by the University of Michigan Press. His articles appeared in the British Journal of Political Science, Government and Opposition, Journal of Politics, Political Behavior, Political Psychology, and World Development.
Benjamin Gidron is a Professor Emeritus at the Guilford Glazer Faculty of Business and Management in Ben Gurion University of the Negev and currently a Professor of Social Enterprises and the Head of the Research Authority, The College of Management Academic Studies (COMAS). He pioneered the study of the Third (Nonprofit) Sector and civil society in Israel and was the Founder-President of the International Society for Third sector Research (ISTR) 1992-96. He founded the Israeli Center for Third sector Research at BGU and directed it for 12 years (1997-2009). In the past decade he has studied primarily social enterprises and related issues. He currently studies Impact Tech Startups. He led or was a part in 7 international/comparative studies.
Aya Okada is Associate Professor at Graduate School of Information Sciences, Tohoku University. She received her Ph.D. from the University of Pittsburgh. She is interested in understanding how nonprofit organizations contribute to triggering such change among individual citizens through communication strategies. Her research focuses on the design, implementation, and evaluation of communication process used by nonprofits as they seek to sustain their voluntary support in societies undergoing economic, social, and political change.