2023 Theme & Call for Submissions
52nd ANNUAL ARNOVA CONFERENCE
Advancing the Public Good in an Era of Disinformation, Mistrust, and Democratic Backsliding
Nov 16-18, 2023 | Hilton Orlando Lake Buena Vista - Orlando, FL 
Get a week extension in the conference proposal submission deadline, pay less for your conference registration and enjoy all the benefits of the ARNOVA membership
Non-member submission deadline: May 17
Member submission deadline: May 24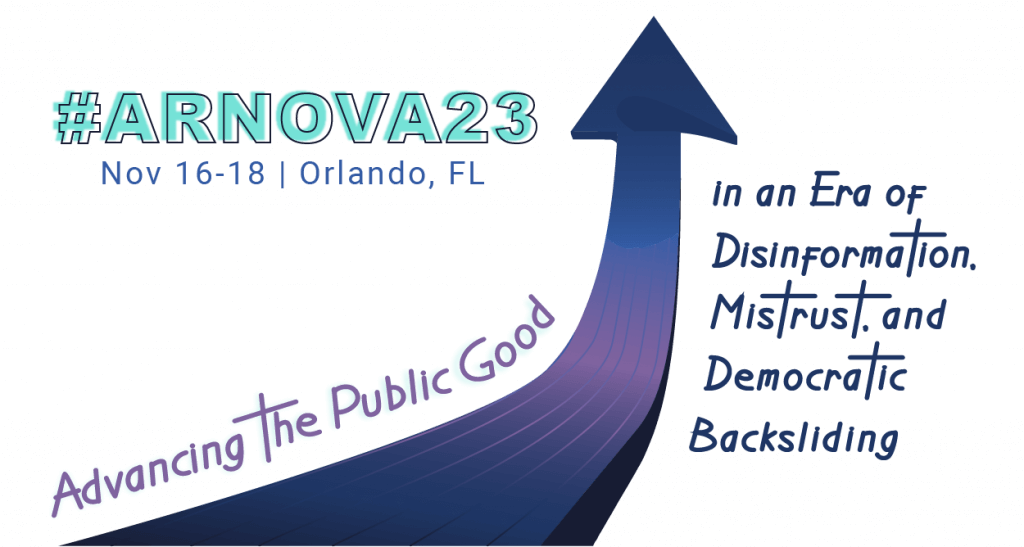 The past decade has seen increasing challenges to social cohesion, marked by misinformation, mistrust and democratic backsliding.  The rise of social media - as well as news sources customized to reflect viewers' political preferences - have contributed to the growth in misinformation and conspiracy theories, and a decline in trust of information sources that challenge those preferences. With misinformation, comes mistrust of those whose views are different from one's own, and increasingly, an openness to anti-democratic ideas as a means of advancing political goals.
Nonprofit organizations have long represented an important component in building civil society, and a mechanism for advancing democratic ideas. Nonprofit organizations reflect the pluralistic nature of societies and provide myriad distinct opportunities for people to come together to strengthen their communities and advocate for social change.  Philanthropy, large and small, formal and informal, has both been recognized as contributing to social cohesion and democracy building; as well as criticized and questioned for the power it wields, often on behalf of the world's wealthiest donors).
The 2023 ARNOVA Conference invites you to consider how misinformation, mistrust, and democratic backsliding are affecting nonprofit organizations, voluntarism, and philanthropy. As you develop proposals for the conference, you may want to consider some of the following questions:
How are misinformation, social mistrust and democratic backsliding changing the work of nonprofit organizations and philanthropy?
How are nonprofits, grass-roots organizations, and formal and informal philanthropies responding to these conditions?
How are ARNOVA members learning about these issues and sharing them with practitioners?
In what ways do the roles played by nonprofit organizations and philanthropy in response to these conditions vary by country?
What challenges do misinformation, mistrust, and democratic backsliding play for the most marginalized groups in communities and the organizations that support them?
What are effective strategies and managerial tools for nonprofit organizations and philanthropy in combatting misinformation, trust-building, and creating resilient democracy?
We hope these questions will provide an effective foundation for reflecting on how misinformation, mistrust, and democratic backsliding are shaping the work of nonprofit organizations and philanthropy, and the role ARNOVA members can play both in advancing knowledge and addressing these issues.
ARNOVA's annual conference welcomes participation from researchers in all academic disciplines and a range of professional backgrounds – including nonprofit executives and staff, foundation staff, consultants, and policymakers. Students from all disciplinary backgrounds are particularly welcome.
The following conference submission types are available for the ARNOVA Conference:
The online proposal submission system open on March 28, 2023, and close at 11:59 pm EST, May 17 for nonmembers and at 11:59 pm EST, May 24 for members.
Poster and Emerging Scholars Research Roundtable submissions will open on June 8 and close on August 15.
Questions can be directed to the ARNOVA office at (317) 684-2121, or to conference@arnova.org